HOW TO REACH US FROM BLED?
FROM BLED
BY CAR
The same as going from Ljubljana, you have to take the highway A2 towards Jesenice/Kranjska Gora/Tarviso. Then you have to take the exit Jesenice-zahod and continue towards Kranjska gora.
In Kranjska gora you have two options, either you go over the Vrsic mountain pass (86km) or the Predel mountain pass (83km, through Italy). The road is marked with signs for Slovenia, Bovec.
The drive takes about 2 hours.
BY TRAIN + BUS
If you are planning to take the train from Bled, first you'll have to walk for 25 min from town center to the train station or you can take a shuttle from the center, which will take you 5 min of driving. The station is located on the other side of lake Bled. Take the train from Bled to Most na Soči and then you'll have to take the bus to Bovec.
Trains from Bled Jezero – Most na Soči
Monday – Friday: 4.30, 6.22, 8.37, 11.30, 14.50, 17.08, 19.20
Saturday – Sunday: 8.37, 11.30, 17.08, 19.20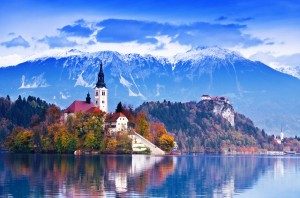 Buses from Most na Soči – Bovec
Monday – Friday: 07.27*, 8.27*, 12.57*, 13.48, 14.53*, 15.23*, 16.10*, 20.23
Saturday – Sunday: 20.23
*You have to switch the buses in Tolmin. Bus takes about one hour drive and costs 5,20-5,90 EUR
For more information about buses: http://avrigo.si/potniski_prevozi_eng/linijski_promet_eng/vozni_red_eng/
For more information about trains: http://en.slo-zeleznice.si/en/passengers/slovenia