Are you also noticing an increasing number of people, gliding gracefully across the sea or lakes on a board-like vessel while standing up and holding one paddle?
Would you be up for testing your balance on one of the most beautiful Central European rivers and experiencing the Soča river in a completely different way?
If you were nodding while reading the lines above, then SUP-ing might be just the perfect solution for you.
Stand-up paddleboarding has become an extremely popular and accessible water sport in recent years – especially because you don't need a van or a trailer to transport this type of "vessel". You basically just put it in your backpack and you're ready to go 😎
What does "SUP" mean anyway?
Stand-up paddleboarding is a simple water activity where you stand on a large board and use a paddle to help you glide across the water.
This popular sport, also known by the acronym SUP, is one of the fastest-growing board sports in the world and has quickly won the hearts of water adventure lovers all across the globe.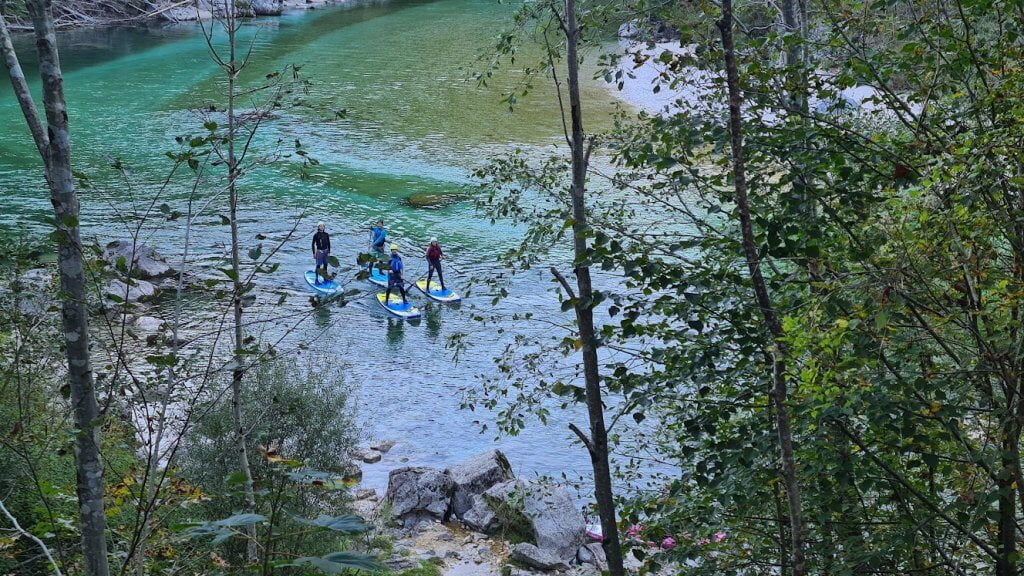 Why can SUP-ing quickly become one of your favorite summer activities? ☺
SUPing is not just a pleasant morning or evening exercise, as it offers you many unexpected alternative opportunities.
Stand-up paddleboards are thus gaining popularity for people performing yoga and pilates, also fishing enthusiasts are finding them more and more useful. What's best about this relaxing sport is that it is suitable for basically everyone – both old and young, regardless of the level of physical fitness.
In addition, you can do a lot of relaxing things on a SUP – you can sunbathe, enjoy a panoramic voyage, or go for a pleasant afternoon splash with your furry friend 🙂
Where can you take this versatile floating board with you?
One of the best things about stand up paddleboarding is that there are tons of fantastic locations to explore, whether you live near a lake, river, pond or ocean.
The only thing to pay attention to when SUPing is choosing a suitable location for paddling. The ideal environment has protection from wind and waves, good access points for take-off and landing, and minimum traffic with other watercrafts.
Why is SUPing on Soča river a "must do" for your travel bucket list?
If you're looking to do some relaxing water activity when in our emerald paradise, this is actually the best way to go. Discovering the Soča valley while gliding along the breathtaking emerald river Soča is a truly unforgettable experience, and we strongly believe it would be carved in your memory for many years to come.
And if you don't exactly own a SUP or you haven't yet managed to try stand-up paddling, don't worry…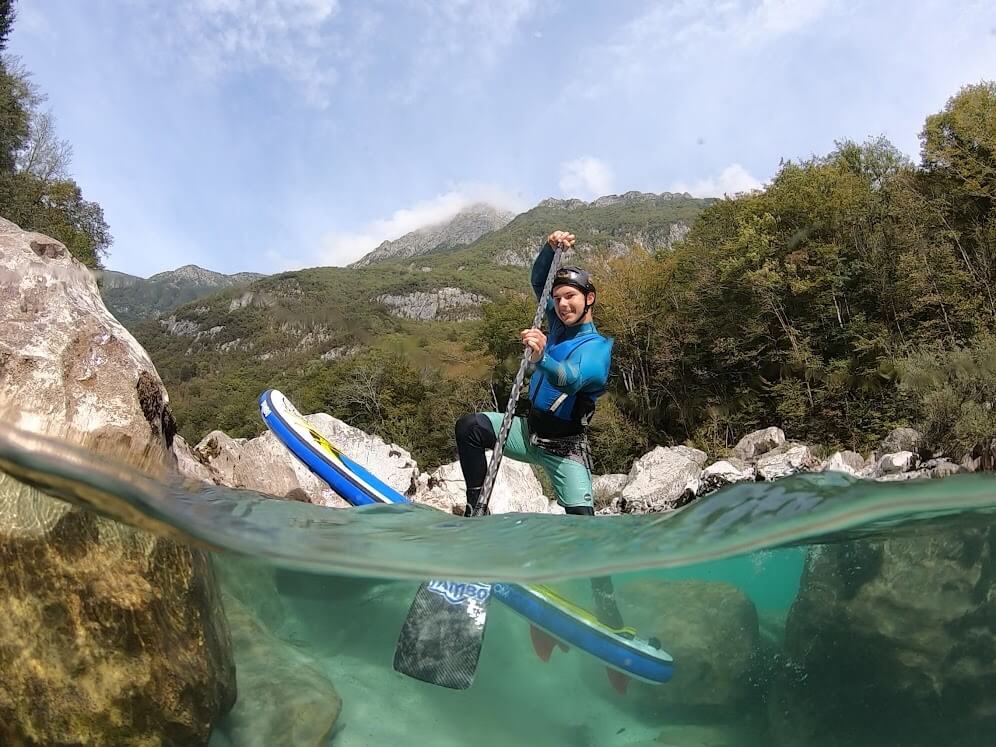 You can also embark on a true SUP-ing adventure with the help of our team. We will make sure you have a safe descent down the Soča River, teach you how to warm up, how to stand and how to control the board itself in moving water, and review various rowing techniques and turning, correct posture and position, and safe entry and exit from the water.
But of course, the most important part of it is that we will have a looooot of fun 🤩
Are you up for it? 😎