A visit to the emerald Soča Valley is certainly a special experience for every visitor. Even those who managed to visit Bovec on their previous trips are happy to return year after year. And that is not surprising since the valley offers a variety of experiences for every taste.
Despite this, the most frequent visitors are still the ones who love to get their hands on water activities. Which are plentiful in the valley. The rafting was one of the most popular activities when visiting Bovec in the past few years. But canyoning is becoming more and more popular. As it offers visitors a slightly more adrenaline-pumping experience.
Even in our Hostel Soča Rocks, we have made sure that the guests will not remain indifferent and thus prepared a wide selection of our most beautiful gorges in the Soča Valley for all adrenaline enthusiasts around the world…
#1: Sušec Canyon – an unforgettable experience for all ages…
If you've always wanted to experience canyoning, but you don't know which one of the gorges in the Soča Valley is the best pick then perhaps, Sušec Canyon can be just the thing for you.
The easy gorge, which provides real fun with simple jumps and slides, is also the warmest and easiest splash in the region. This is precisely why it is perfect for all canyoning first-timers. As well as families, and all lovers of water activities who like to spend their free time out there in pristine nature.
Undemanding, but no less fun, the canyon is full of jumps into crystal clear pools. And the last slide, which will definitely get your blood pumping with its 12m height. It spices up the whole experience like a cherry on top of the cake.
The advantage of the natural water park Sušec is that there is a path around the waterfalls and slides. This means that you can avoid certain waterfalls and jumps if you don't feel comfortable.
#2: Fratarica Canyon – discover the true meaning of canyoning…
Canyoning in Fratarica is a fantastic choice for all those who have already visited the Sušec Canyon and want to experience the next level of gorges in the Soča Valley on this visit to Bovec. The wild river Fratarica paved its way almost vertically in one of the most magnificent walls in our Julian Alps. The Loška Stena wall. Thus ensured us a real adrenaline experience.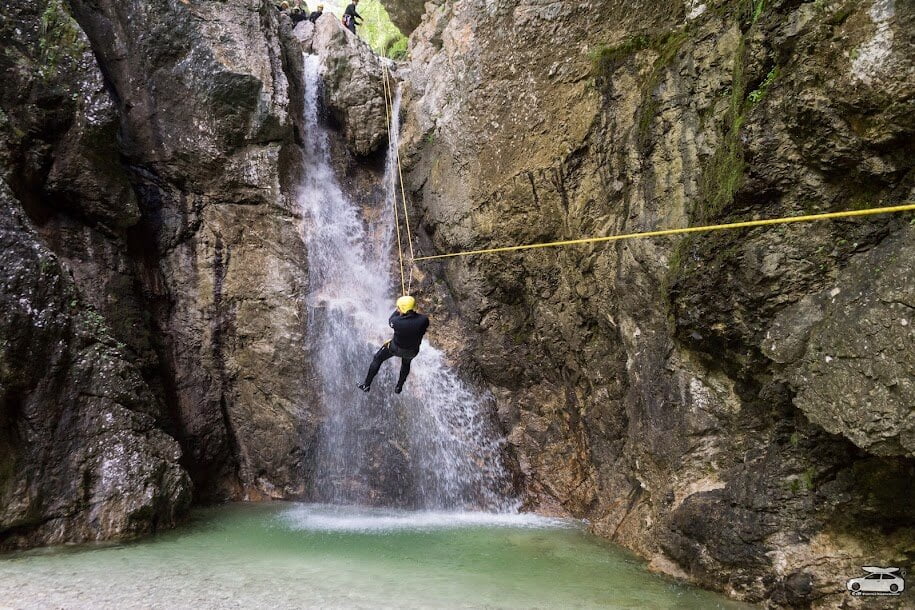 If the thought of jumping into pools, sliding down high natural slides, and abseiling down the dizzying 45m high Parabola waterfall gives you butterflies in your stomach, then you definitely shouldn't miss this experience on your next visit to Bovec.
The activity is suitable for all adrenaline enthusiasts. Even if you haven't tried canyoning in the past. Just make sure you leave your fear of heights at home 🙂
#3: Predelica Canyon – hours of fun in the popular gorge…
If you are interested in what canyoning looks like in one of the longest gorges in the Bovec area, don't miss out on the Predelica Canyon. Comparable in difficulty to Fratarica, the gorge offers fun in countless ways. It is perfect for anyone with prior experience or active beginners who have no fear of heights.
The emerald-clear water of Predelica calls for swimming, jumping into pools. Abseiling in the company of mighty waterfalls and exploring the hidden corners of the pristine nature of the Triglav National Park. Some of the waterfalls reach a height of up to 33 meters! Which will surely provide many "wow" moments and an accelerated heartbeat.
The special feature of the Predelica Gorge is that it is divided into two parts. For the purposes of canyoning. This means that you can conjure up an all-day canyoning experience. Or simply go for a morning adventure.
#4: Rio Ronc – a well-kept secret of our northern neighbors…
Have you already managed to explore the local canyons on your previous visits to Bovec? Would you like to discover something new on your next visit? Then don't miss out on the Rio Ronc gorge! One of the two new canyons in our offer, which will certainly not leave you indifferent.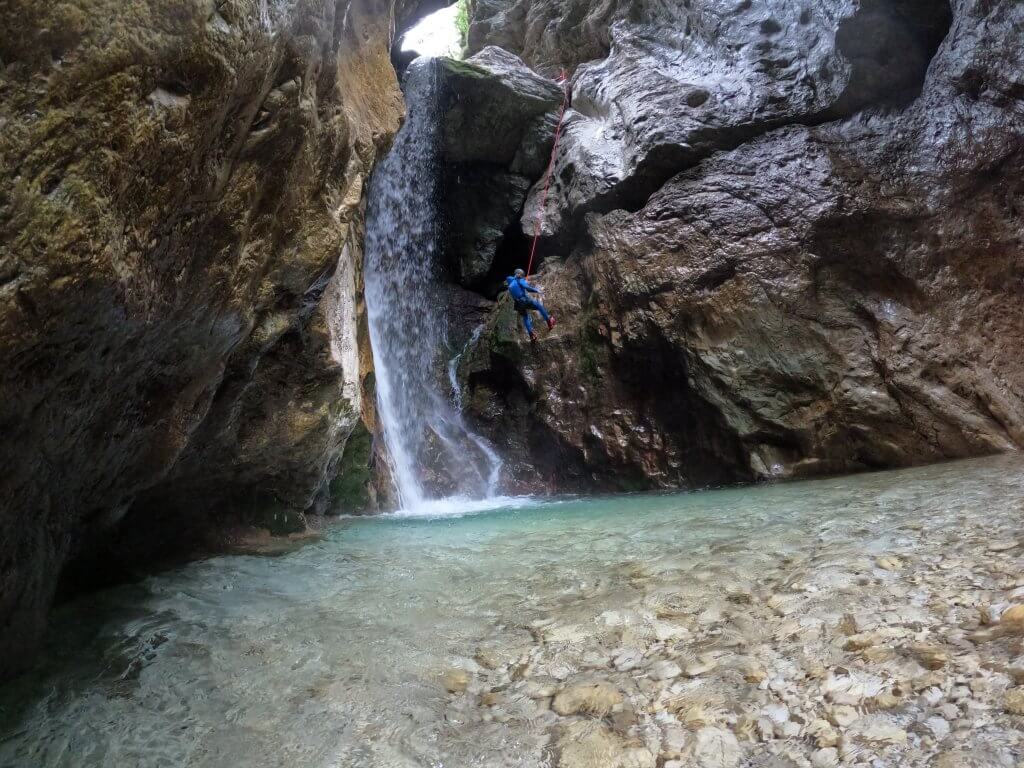 This insanely fun and cute canyon is located in Rezia. A fairytale alpine valley in the northeast of Italy. About an hour's drive from Bovec. The gorge is surrounded by stunning nature and crystal pools. Which are a true feast for the eyes and get the blood pumping even for the bravest visitors.
The most fun part of the Rio Ronc Canyon is definitely the dizzying 20-meter rope descent under the watchful supervision of experienced guides. Which definitely makes for this unforgettable Italian adventure.
#5: Rio Simon – canyoning for "the big ones"…
Rio Simon lies in the Italian Carnic Alps near the village of Chiusaforte. And it will be perfect for you if you have previous experience with canyoning. A good physical condition and a will to experience canyoning as a full-day adventure is all you need! But keep in mind that the gorge is quite long.
This Italian jewel delights canyoning enthusiasts with 18 breath-taking waterfalls and crystal clear pools, where we descend with the help of ropes or overcome them with adrenaline-pumped jumps. The largest waterfall that you can overcome with the guides in the Rio Simon Gorge is 37 meters high, and the highest jump is 4 meters.
The continuous sequence of jumps, slides and labyrinths along the 2.5-kilometer-long canyon ensures an unforgettable experience that you and your friends or family will surely remember for a long time. All you have to do is leave your fear of heights at home 🙂
Okay, so we came to the end of our list of magical canyons that you can explore on your next visit to Bovec 🙂
But since you're still reading this, you might be wondering…
How can you try your hand at canyoning this summer as well?
The answer is extremely simple 🙂

Simply dial our phone number +386 41 317 777, write to us at [email protected] or stop by for a coffee or a glass of wine and we will be happy to help you.

We wish you a pleasant vacation planning, and if on your next visit to Bovec you feel like having a glass of cold beer, good coffee or pleasant company, visit us in our hostel 🙂

The Soča Rocks hostel team