Peace, quiet, natural beauty, and breathtaking views are just a few of the many reasons why people generally love venturing into the mountains.
And despite the fact that the scenery there is amazing at any season or time of the day, many of us love to hike to enjoy quite special events – catching the best sunsets or sunrises in Bovec and the region…
After all, to begin or end your day in the embrace of the mountains is, after all, one of the most exciting moments for all lovers of hiking and mountaineering.
In fact, hikes during what nonhikers would call "crazy hours" are incredibly convenient. As you can do them outside of your working schedule. And to top it all off, there are usually far fewer people in the hills during these times than during the day.
Just imagine how envious your friends would be if they received this following photo while they are still rolling lazily in their beds…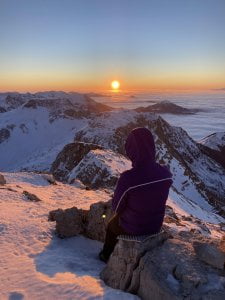 Amazing, right? 😍
Don't worry – this doesn't mean that you can only experience such breathtaking views while freezing. It also doesn't mean that you have to be crazily experienced and drag extra 15 kilos of winter equipment with you.
Even in the warm summer months, sunrises and sunsets are an extraordinary occurrence – especially in our Soča valley.
And since our guests at Soca Rocks Hostel often ask us for hiking suggestions in the Bovec area, we decided to reveal 5 of the most beautiful locations for catching sunrises and sunsets in our emerald valley.
Since we don't want to reveal too much, we didn't enclose any pictures. I guess you'll just have to go for it and see it for yourself 😋
NOTE: The hikes below are not considered particularly demanding, but they do require appropriate equipment and good physical fitness, and fear of heights will have to be left at home for most of them.
Are you ready? Let's check…
#1 Mangart offers some of the most beautiful sunrises in Bovec…
The mighty Mangart is our fourth highest mountain, extremely popular during summer months due to its easy access. The highest road access in Slovenia leads to the parking lot on the Mangart saddle at a dizzying 2,050 meters. Making it also extremely popular for cyclists and motorcyclists. Just below Mangart's "rocky" pyramid, there are two starting points for getting to the top. The Slovenian route, which is quite demanding, and the slightly easier Italian route.
From Mangart, our views reach towards the Slovenian and Italian Julian Alps. And at the top, where a 360-degree panorama awaits us, we get a fantastic opportunity to watch both some breathtaking sunsets and the sunrises in Bovec and the region.
Length of the route: 2 hours
Difficulty: Italian route: demanding marked route; Slovenian direction: very challenging marked route
Summer equipment: Italian direction: helmet; Slovenian direction: helmet, climbing harness, self-protection kit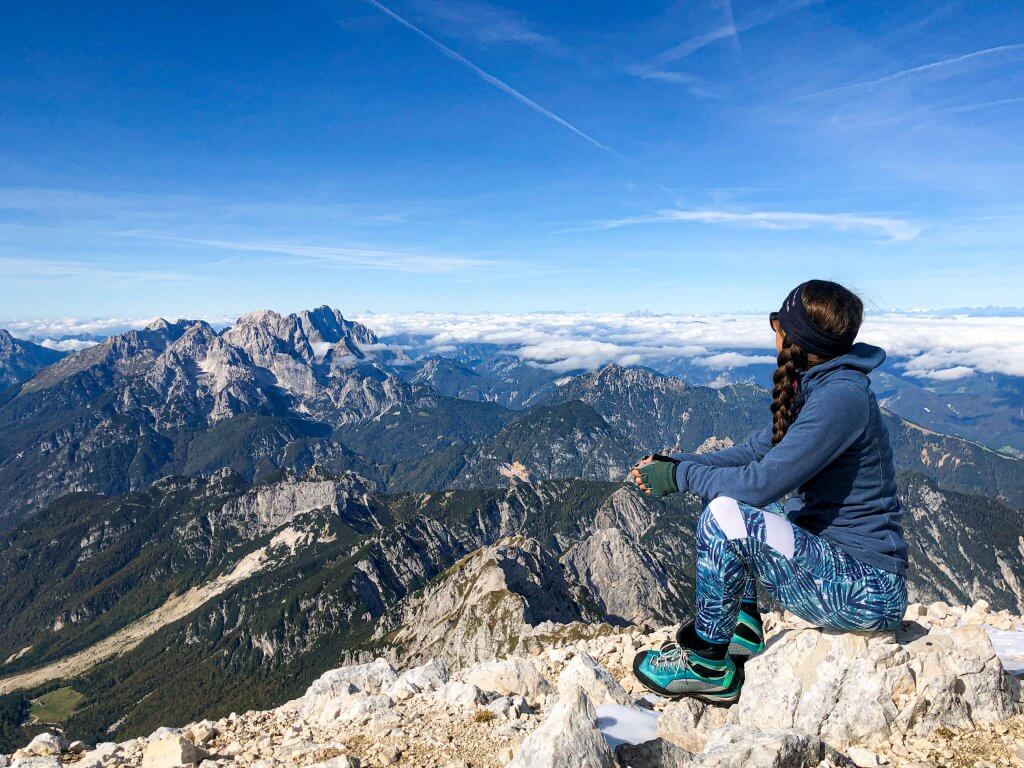 #2 Sunsets at Svinjak…
Svinjak is a notorious spiky hill above Bovec. It impresses many hikers just by looking at it. Due to its special shape, the locals also call it the Matterhorn of Bovec. The ascent to it is generally not as demanding and exposed as it is steep. On its slope, somewhere in the first third of the way, you can admire the Čelo open-air museum. Here you can find the remains of the 12th battle of the Isonzo Front. The museum itself is open all year round and has no entrance fee.
From Svinjak, there is a wonderful view of the Bovec Valley. As well as the highest peaks of the Julian Alps in its background. This is why watching sunrises and sunsets from here is always an unforgettable experience.
Route length: 3h 15 min
Difficulty: partly demanding, marked trail
Summer equipment: walking poles to help with ascent and descent
#3 Sunsets in Bovec – Krn…
Krn is one of the most popular mountains in the Soča Valley. It is quite easily accessible and the views at the top are an absolute killer. With its cut-off peak in the west and a "friendly" slope on the south side. It attracts a large number of hikers every year. Just a few minutes below Gomišček's shelter on Krn, you can discover remains of fierce battles during the First World War. Some barbed wires, tunnels, and shelters from the battles.
Despite the fact, there are different routes with different difficulty levels leading to Krn. The easiest & shortest (as a result also the most popular) route is from Planina Kuhinja. From here we hike to Krn mostly along the meadow. Nevertheless, the views on top are fantastic. Especially in the morning and in the evening. So this hike could be described as "good value for money". 😎
Route length: 3h 15 min
Difficulty: easily marked trail
Summer equipment: walking poles to help with ascent and descent
#4 Muzec…
Muzec (or as the locals like to call it "Musc") is a 1612 m high, less visited mountain, located north of the Breginj corner. A little further from Kobarid towards Italy. Just below the top of Muzec, you can rest your feet in an older bivouac. Or if you want to extend your hike, you can "stretch" it by walking along the rugged ridge towards Kobariški Stol. The best thing about the hike to Musc is the fact that you rarely meet other hikers. The trail itself is not exposed and not too demanding as well. So the hike will definitely be perfect for those who like to avoid the crowds without risking amazing views 😊
From the top, we have a beautiful view of the Julian Alps and their foothills. And in good weather, the view to the south and west extends over all of Friuli, all the way to the sea. On the west you can see Veneto, making the spot perfect for sunsets and sunrises.
Route length: 2h 55min
Difficulty: partly demanding, marked trail
Summer equipment: walking poles to help with ascent and descent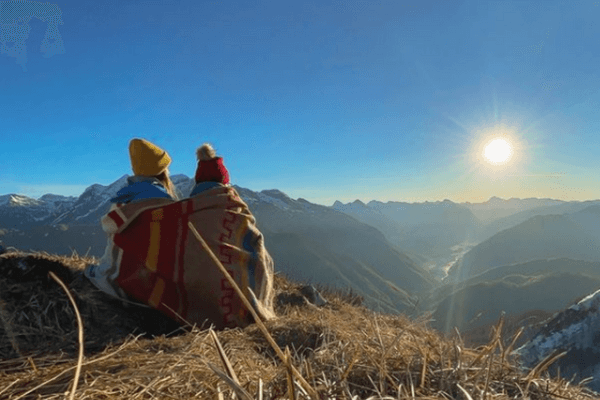 #5 Velika Baba…
The last, but no less beautiful option for admiring nature's wonders is Velika Baba, which is located above the Lepena Valley. The shortest and fastest trail to hike is from the very starting point in Lepena. Although Velika Baba is 2,016 meters high, the tour is suitable for everyone and the route takes you near Lake Krn, where the Planinski dom pri Krnskih jezerih is also located. If you wish, you can visit the neighboring Velika Montura mountain on the right side of Velika Baba as well, where old Italian caravels just below the peak will definitely grab your attention.
The route itself already offers fantastic views and at the top, we can see the entire Julian Alps and Lake Krn. Sunrises and sunsets are always something special on Velika Baba. Especially since the mountain itself is still fairly unknown. Leaving you with more freedom to enjoy it all by yourself or with your better half 😋
Length of the route: 4 hours
Difficulty: easy marked trail
Summer equipment: walking poles to help with ascent and descent
So join us and enjoy the stunning sites, sunsets, as well as sunrises in Bovec Slovenia.
We hope that with the list above, we'll be able to conjure up one or two more unforgettable days of your exploration of Soča Valley.
If you do manage to catch a sunset or sunrise from one of the recommended peaks, we'd be super happy to see your amazing pictures as well 😊
The Soča Rocks Hostel team wishes you a safe step 💚🏔