Were you planing your perfect holiday in Bovec but got caught by a surprise by the rain?
No problem at all. It's true that Bovec is mostly known for its outdoorsy activities, but there are still some interesting places to visit and things to do despite bad weather.
So don't worry about the rain, just be the sunshine and make yourself a rainbow! 🙂
Here are some of our TOP things to do on rainy days in Bovec area:
 Do water activities
There is nothing more fun and exciting than water activities in the rain. You get wet during rafting/kayaking/canyoning anyway, so why wouldn't you do it on the rainy days and perhaps spend the sunny ones hiking!? It's a win-win decision! 😉
Rafting
Classic rafting tour takes place on 10km Soča river route from Boka to Trnovo. Rafting is especially fun during or after rain, since the level of the water gets higher and so do the rapids! 😉
 

Kayaking
If you prefer more individual sports, than kayaking on Soča river is the right choice. On kayak trip you will learn how to maneuver kayak on your own and paddle the rapids like a pro! 😉


Canyoning
And for the most adventurous ones there is canyoning! Walk, climb, jump, upseil and swim in the most pristine waters that Bovec valley has to offer!
There are plenty of canyons in the valley, suitable for all generation and level of experiences!
Please notice: For safety reasons take part in this activities in guided tours only. We highly recommend agency Aktivni planet on the main square of Bovec with more than 20 years of experiences!
You can check their offer also on the link bellow:
https://aktivniplanet.si/en/
Visit museums
The Kobarid museum of World War I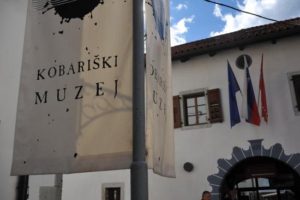 Kobarid museum displays exhibits on the events that occurred during World War I on the Isonzo Front.
General informations:
Opening hours:
April – September:every day 9.00 – 18.00
October – March: every day 10.00 – 17.00
Ticket price: 6€ adults / 4€ students / 2,5€ children
No car!? No problem! You can take the bus to Kobarid several times per day from the main bus station which is located less than a minute walk from our hostel. You can check the timetables on the link bellow:
https://www.visitljubljana.com/en/visitors/explore-the-region/visitor-information/practical-information/avtobusna-postaja-ljubljana-ljubljana-bus-station/
Fortress Kluže
Fortess Kluže is located 4 km from Bovec towards the mountain pass Predel. The first wooden fortress was built in the 15th Century and was used for protection from the Turks. During the reign of Napoleon Bonaparte it was burned and demolished. The latest version of the fortress was built by Austro-Hungarians in 1881-1882. It was designed as a control point between Bovec valley and pass Predel. Today it serves as a museum with permanent and temporary exhibitions it also serves as a place for summer events.
Opening hours:
Maj & October: Saturdays and Sundays 10.00 – 17.00
June & September: Sunday – Friday 10.00 -17.00; Saturday 10.00 – 18.00
July & August: Every day 9.00 – 20.00
Ticket price: 3€ adults / Students 2€
If you are interested in history, there are also some open-door museums in Bovec you might want to visit (on a sunny day or perhaps with rain jacket 🙂 )
http://hostelsocarocks.com/by-the-steps-of-battles-of-the-insonzo-during-world-war-i/
Try local food
You didn't experienced a place you visited until you tasted the local food!
Čompe in skuta
(cooked potatoes with cottage cheese)
Soča trout
 Bovški krafi
(special dumplings filled young pears)
Hope this blog will help you make an unforgettable stay in Bovec despite bad weather!
For more information on what to do in Bovec follow us also on Instagram (hostelsocarocks) and Facebook ( Hostel Soca rocks)!