V neokrnjeni naravi doline reke Soče leži vas Žaga. V neposredni bližini vasi se nahaja Posestvo Blata, katerega glavna dejavnost je k
onjeništvo. Idila, ki jo ponuja okolje, je lahko s konjskega hrbta pravo doživetje. Posestvo Blata je zaradi bližine reke Soče in mirne okolice popoln kraj zavse, ki se želijo sprostiti in naužiti svežega zraka v družbi konj. Posestvo vam ponuja različne aktivnosti: jahanje ponija za otroke, jahanje velikih konjev za večje otroke, terensko jahanje in celodnevno druženje s konji 
In the heart of Soča valley is located village named Žaga. Posestvo Blata is nearby village and its primary activity are horses. Beautiful surroundings can be unforgetable experience from the horseback. Closeby Soča river and peacefull nature of Posestvo Blata is perfect for everybody who wants to relax in the company of horses. Posestvo offers you different activities: riding pony for children, riding big horses for elder children and adults, trail riding and all day activities with horses.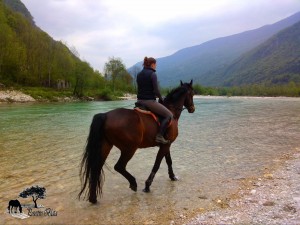 Ne odlašajte z odločitvijo! Rezervirajte nastanitev v hostlu Soča rocks in užite izjemno priložnost v dolini Soče!
Don't hesitate to call! Book your stay in Hostel Soča rocks and get some unique experience in Soča valley!
Hostel: +386 41 317 777
Horse riding +386 40 274 077  (Greta Štor)