Is it worth to come to Soča valley if you only have a day? The answer is definitely YES!
Some people say that it's journey not the destination that matters & journey to Bovec is for sure one of the most scenic rides in the Alps you can experiment … even if it is only for a day you should not miss it.
6 am
Believe me, even if requires a lot of energy to crawl out of the bed when is still completely dark outside, sunrise from Boka waterfall view point pays it all off.  One of the most scenic Slovenian waterfall is located 6 km away from Bovec town offering great overview of the whole Bovec basin. Sun comes up right behind Svinjak mountain, known as Slovenian Matterhorn. On a clear day is easy to spot Triglav mountain from the same platform by the waterfall as well.
8 am
On the way back to Bovec, stop at the bakery and treat yourself with a nice "Balkan" breakfast. Even though Burek is traditional Bosnian food Slovenians love it. Enjoy eating cheese or meat burek in a good company on hostel Soča rocks' terrace. Girls at the bar will make a great coffee for you to boost up your energy.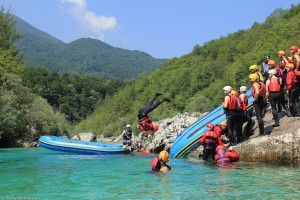 10 am
Is time for some action: 3, 2, 1 …. go RFTING!! Our driver will come to pick you up. Before heading down the Soča river you'll meet your guides (best guys in town) and you'll receive the equipment. Just don't forget to bring a swimwear and a towel with you. On a raft you'll have a chance to explore most beautiful parts of the river and to have endless fun sliding the raft down from a "penguin" rock!
1 pm
Lunchtime! Go to Sovdat restaurant and order great homemade food. With hostel's "sleep with me" wristband you get 10% off on all delicious dishes they prepare for you. Dare to order "ljubljanski" stake … it is bigger than a normal size plate is. They also serve Bovec traditional dessert called "krafi"… so leave some room in your stomach for it 😛
3 pm
Grab the bike and head towards Trenta valley. On the way up you'll pass the monument of the fallen soldiers of the 1st World War. Cycling by the Soča river rewards you with amazing views of some of the highest Slovenian picks. The main attraction is a great gorge of the Soča river 10 km away from the hostel. Be brave …  jump down the cliff & post your jumping photo on our facebook page.
7 pm
Stop at the grocery store, buy your dinner and make a great barbecue with friends on the hostel's terrace. There is no great dinner without greatest schnapps called Pelinkovec. Is quite bitter buy i suggest you –  give it a try & fell like locals do -although is just for a day :).
10 pm
Black sheep is a place to be if you want to  party and hang out with people from all over the world. Is going on till 3am!!
At 6:30 am when your alarm clock will start to ring you'll feel glad bus (leaving at 6:50) needs a while before reaching your next travel destination.
See you next time 🙂