If you are far away from being a hiker who loves up and downs you can start to train yourself with SOČA TRAIL hike.
The Soča trail runs along the Soča River from its source to the town of Bovec. It connects all natural wonders in Upper Soča valley which every tourist wants to see.  The trail is popular for its picturesque suspension footbridges.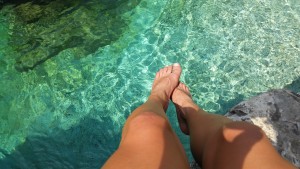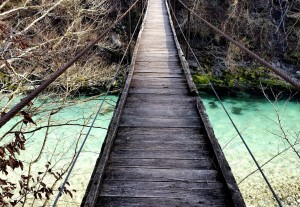 The trail is 25 km long and it is part of Alpe-Adria-Trail, an international track connecting the highest summit of Austria with Adriatic sea.  The Soča Trial is considered by many to be the most beautiful section of the entire trail.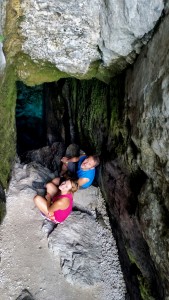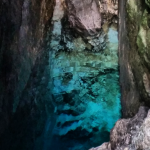 1st main attraction is the source of the river itself. Short hike up to the karstic phenomena requires lots of concentration. Hold the wires and mind your step. After 20 min you reach the permanent spring where the Soča gushes out of the abyss in a subterranean lake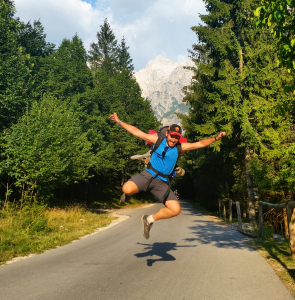 .
Start your walk down along the river…
you can't always wait for a perfect time, sometimes you must dare to jump. 
Visit the monument to Dr. Julius Kugy located on the way and enjoy the view great mountaineer loved so much.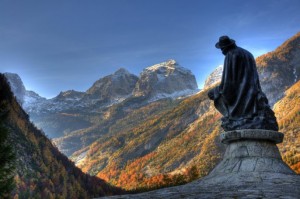 In 1879 Simon Gregorčič, poet from Vrsno village wrote a beautiful song about To the river Soča. Remember his words while walking along its lively stream:
Your course is lively and gentle
Like the walk of highland girls,
You are serene as the mountain air,
You are loud as the vigorous
Chant of the highland youth –
You are splendid, daughter of the heights.
Enjoy great view of some of the highest Slovenian picks and take a short walk offtrack to visit beautiful church from 16th century. The upper course of the Soča river is irregular and lively. The narrow riverbed holds a wealth giant boulders, falls, rapids and river islands.

Stop at Metoja restaurant and treat yourself with a delicious cup of coffee or Bovec traditional lunch menu.
Further down beautiful Soča river gorges are waiting for you:
Small gorge of the Soča river is an amazing place to have a great picnic.
Big gorge of the Soča river is a great place to try cliff jumping into a cold water, admire natural wanders and try to learn how to kayak.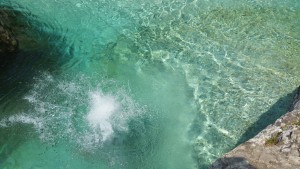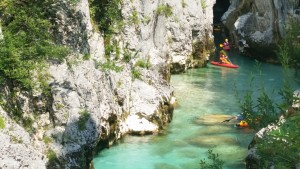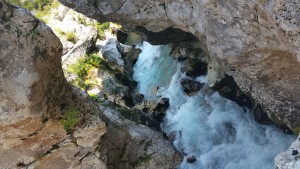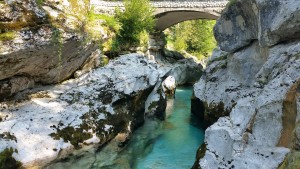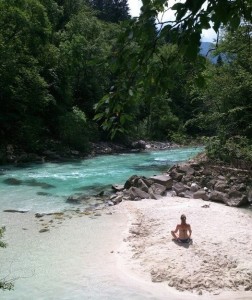 Fell like 1st World War solders did and explore the hill full of bunkers above the lively stream of Soča river.
Before reaching the final destination you have just one more MUST stop at "Brjeka" –  Kal Koritnica village… footbridge with a white sandy beach.
LAY DOWN, RELAX & ENJOY THE MOMENT!!