The reason why Bovec is on your bucket list of traveling Slovenia is for sure the emerald Soča river. The best way to experience some of its magnificentness is kayaking down the current while enjoying the river landscape and intact nature.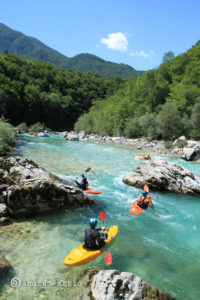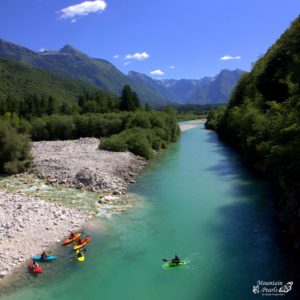 You want to spend the day outdoors and challenge yourself trying something new? Then kayaking is the answer without doubt!  🙂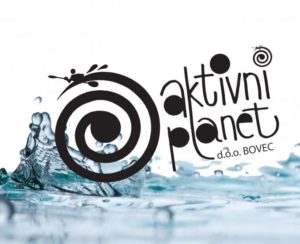 When you finally decide to try kayaking, you are ready for big adventure! Our trip starts in our sport agency – AKTIVNI PLANET.
With your pulse racing and your heart in your throat you are waiting for the guide who is going to take you on the river. Full of energy and excitement to paddle again on Soča river, he comes in – tells a couple of jokes and off you go!
First our drivers take you to out 'base' where they give you all the equipment and there you are –  on the way to the start point – boka Waterfall.
As already mentioned in a lot of our posts Boka waterfall is the highest waterfall in Slovenia. You can admire it while dressing up the neoprene suit and thinking about what spray deck is meant for?! 😀
First we jump into the ice cold water to fresh up, then it's time for safety talk. Our guides explain to you how to act in a kayak, how to paddle left, right and straight down the current. Also what to do when the river plays with you and flips you over and you have to swim out of the kayak.
Now the fun starts!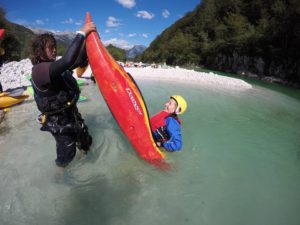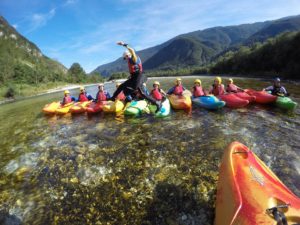 Once you have learned all the basics from our amazing guides, it's time to overcome your fear and start to paddle.
First nervous, but after the first flip the river shows you how much fun is going to be. After a couple of currents, with smile on your face you stop to relax and learn some new things. Now you are almost like a pro. What a feeling! 😀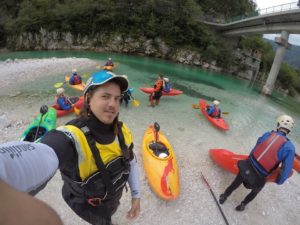 Kayaking is all about being on the river and having fun. Doesn't matter if there are strangers or friends with you, in the end it never gets old and you're always keen to go back. Always. What more could you want ? 🙂
BOOK YOUR KAYAKING ADVENTURE HERE